3 Days Seminar on "MULTIPLY YOUR IMPACT"
15-16-17 October, 2016 @ Novotel Bangkok, Sukhumvit Soi 20
Multiply Your Impact is the Premier Training Globally on Sales, NLP, Speaking, Influence and Negotiation.
Learn how to close more deals, increase your influence & make a bigger impact on the world
International trainer, Best selling author and 32 Time's serial Entrepreneur Kane Minkus (founder of Industry Rockstar) will guide you through the most powerful techniques in the world on how to influence others and make a difference.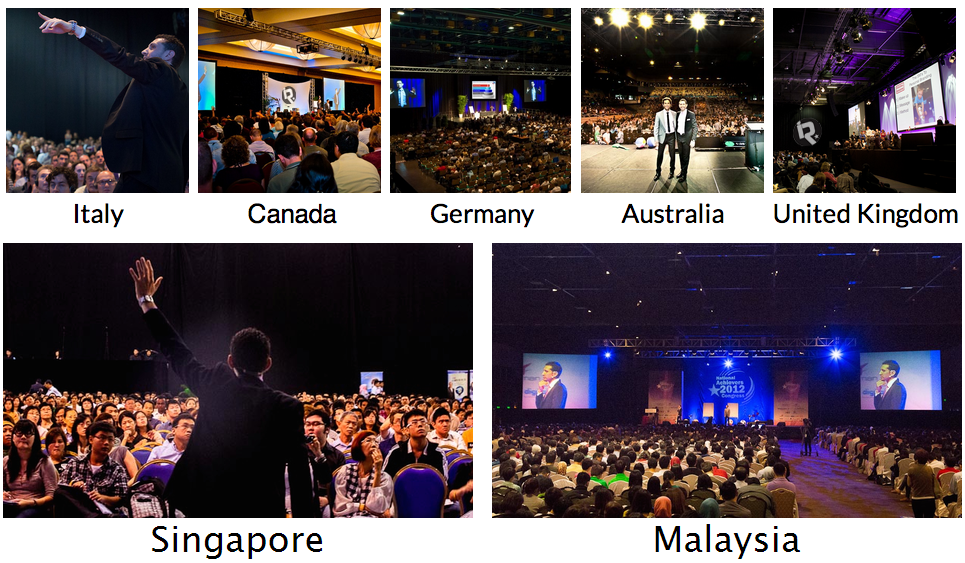 Specialized techniques, the science of influence and tested sales processes that have been taught around the world allow each participant to raise their ability to get more "YES" and influence people to take action.
The Training includes the following Curriculum:
- Neuro Science Techniques to understand how the mind works
- NLP Rapport techniques that help you increase trust and influence
- 5 Secret keys to getting to a yes in any sales meeting
- Negotiation tactics to take more money off the table
- Public speaking skills to be confident networking and giving presentations to groups
- Ways to find speaking engagements for more visibility
- Was to get more out of every deal you make
- How to overcome any objection you get in your sales process
- How to control the sales process so you always get a yes!
- How to make sure you never give up more than you have to in a negotiation
- Ways to change the numbers into your favor quickly
- 5 Ways to mesmerize an audience and have them beg you for more when you speak
Day 1
Session 1: Influence & Rapport Skills from the NLP Tool box
Session 2: Emotional Sales Systems to sell high priced services and products
Session 3: Influence Triggers to have people always say yes
Day 2
Session 1: Negotiation Techniques to help you take more money off the table:
Session 2: Public Speaking Skills Session 1
Session 3: Profit Speaking Skills Session 1
Day 3
Session 1: Objection Handling in Sales Environments
Session 2: Controlling the conversation through Questions
Session 3: Leadership Session 1: What makes a top leader & The Fortune 500 CEO leadership practices
For Thai Register Here https://goo.gl/forms/5rctaa8P120hUn9q1
For English Register Here https://goo.gl/forms/ffKO66c6WMJuNg2b2
For more information on Kane Seminars, Contact us:
Official Line ID : @aiminlines
Mobile : 085-1313-835 (ENG) / 086-810-4434 (THAI)
This Seminar will be in English Language,
Simultaneous Translation also available, English to Thai Language.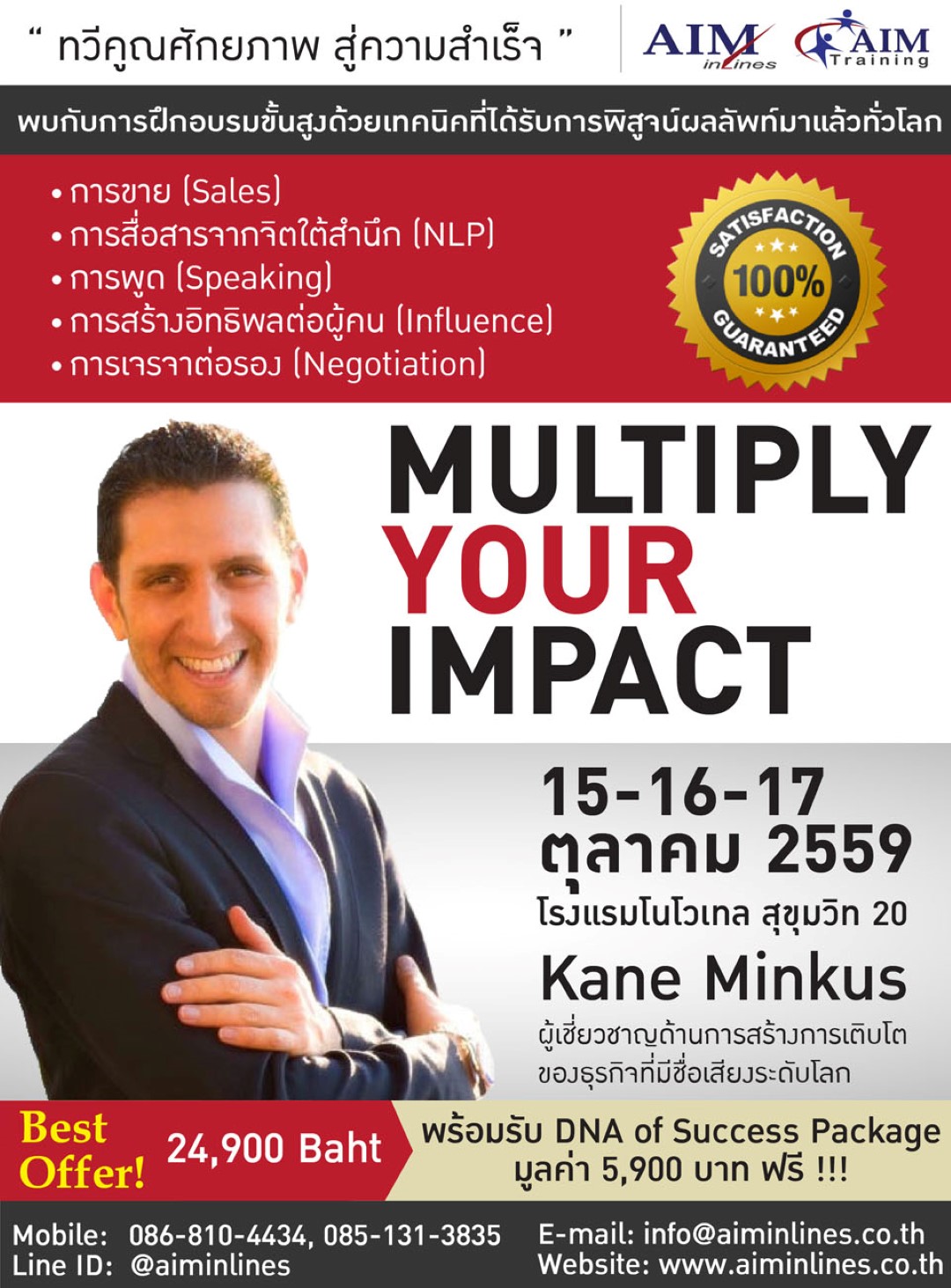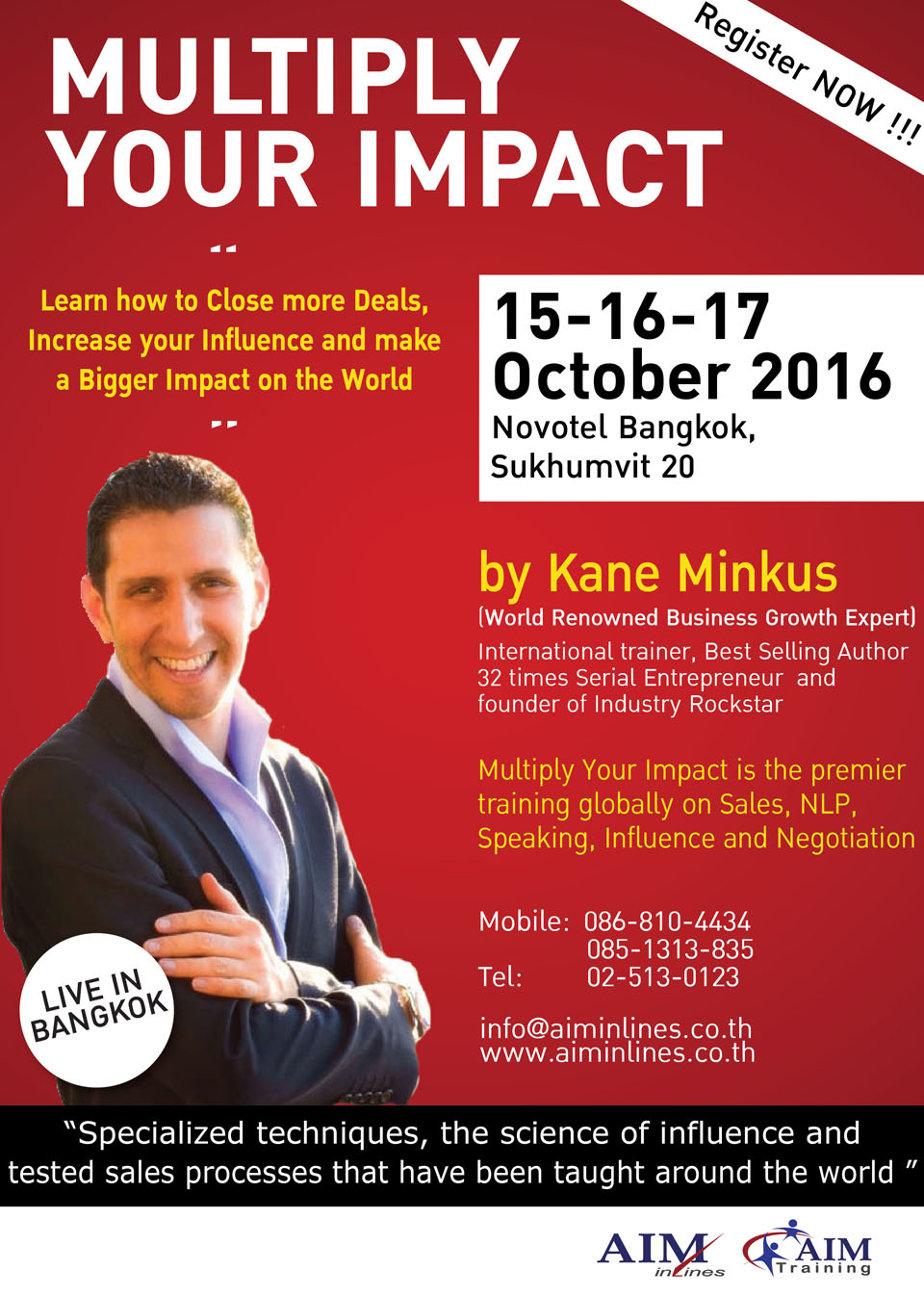 AIM inlines Co., Ltd
Organizer of "MULTIPLY YOUR IMPACT" 3 Days TRAINING
AIM Inlines, is a multinational seminar organizer with offices & partners in Bangkok, Kula Lumpur, Singapore, Beijing, and Seoul. We help corporations, associations and agencies improve their operational efficiency, staff performance and overall productivity without increasing their budget. We do this by bringing some of the world's top trainers and expert's right to your doorstep, providing you with their invaluable knowledge and insight.
AIM Inlines, was established in 2001 and has served the needs of tens of thousands of customers throughout the world. AIM Inlines has established relationships with many of the world's most notable and accomplished speakers and trainers and we are prepared to bring these people to you.
AIM some of Top Seminars,
Blue Ocean Strategy by W. Chan Kim
Toyota Way and Toyota Talent by David P. Meier
The Wal-Mart Way by Michael Burgdhal,
Coach For Leadership by Dr. Marshal Goldsmith
Success Built to Last by Mark Thompson
Fish by Dr. Steve Lundin
The Five Literacies of Global Leadership by Dr. Richard Hames
Maximize Your Memory Power by Ron White (USA Memory Champion).
The DNA of Success by Jack M. Zufelt

We stake our reputation on bringing you the most cutting edge and innovative thinkers of the time.

AIM Inlines Co., Ltd.
(Head Office)
19/2 Pahonyothin Soi 23,
Pahonyothin Road, Bangkok
10900 Thailand

Tel: (662) 513-0123 (Auto lines)
Fax: (662)513-0124
Email: [email protected]
Website: www.aiminlines.co.th

Novotel Bangkok Ploenchit Sukhumvit

566 Ploenchit Road, Lumpini, Patumwan, Bangkok 10330, Thailand

View venue profile - Go to venue Website