Register Immediately Before Seats Full !!!
"Maximize Your Memory Power"
Keynote International Seminar
(Bring the Mind of Einstein to Your Organization)
Enrich your Life and Empower Your Organization
Train Your Mind to Work Like a Human Computer!
Memory Champion Ron White Live in BANGKOK
24 March 2017 @ Novotel Bangkok Siam Square
First Round Start: 09:00 am - 12:00 pm
Second Round Start: 02:00 pm - 05:00 pm
Register Immediately Before Seat Full !!!
Regular Seat FREE!!! (Without Headset)

Headset Seat 500 THB (Includes Headset)
VIP Seat 1000 THB (Includes Front Row Seat, Headset & Seminar Handout)
VVIP Seat 5900 THB (Includes Front Row Seat, Headset, Seminar Handout & The DNA of Success Package)


World Memory Expert Ron White, will train your mind to an incredibly efficient level. You will discover ancient memory techniques known by only a handful of individuals and will discover how these skills will catapult your income.
Learn to recall names and faces! What kind of leader would it make you if you could walk through the halls of your business and call everyone by name and ask them about their family by name How would it impact your profit if you could meet a business contact today and recall his name six months later. Discover how Ron used this technique to memorize 200 names in 15 minutes and You Can Too!
Official Line ID: @aiminlines
Mobile: 085 131 3835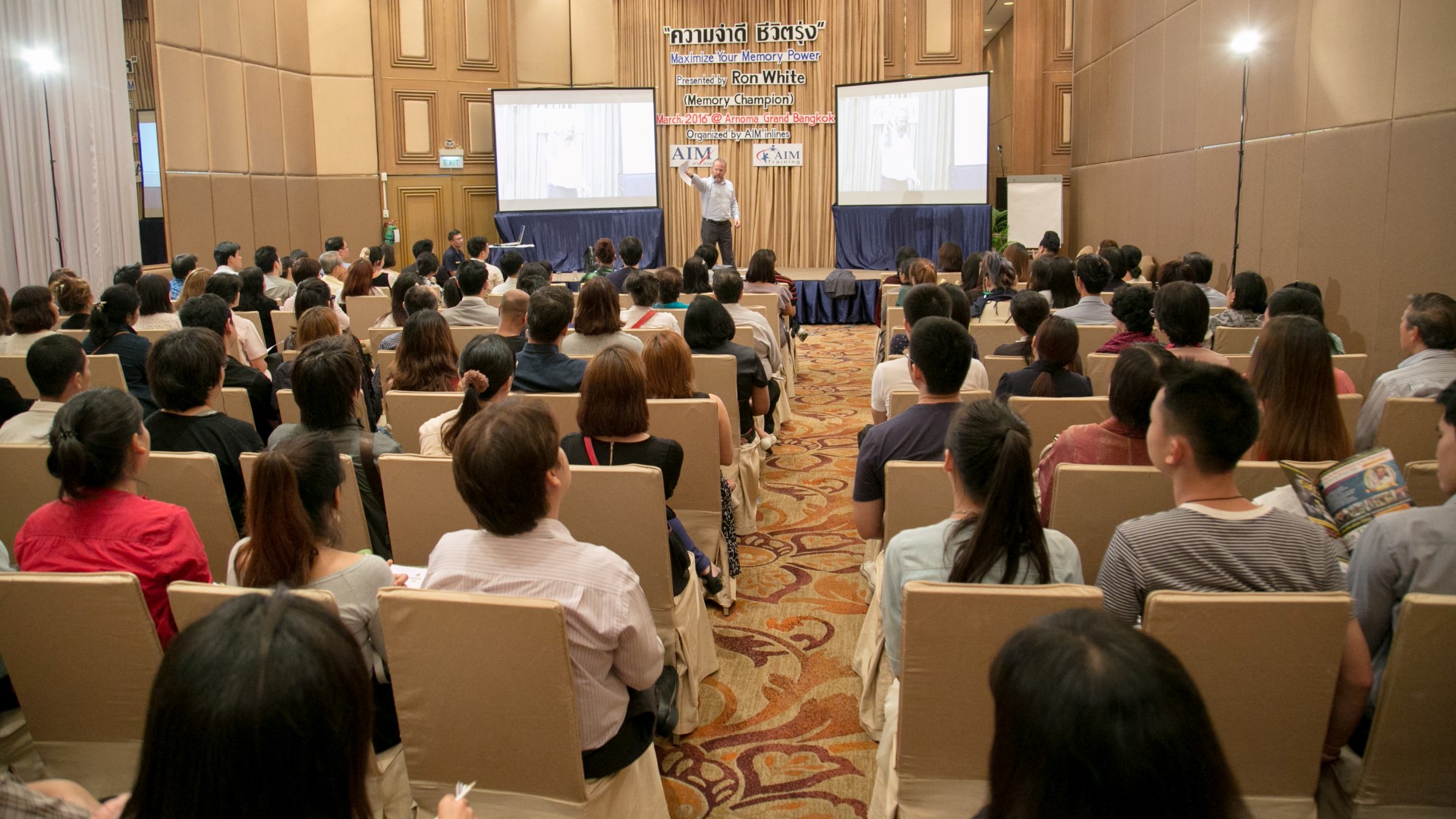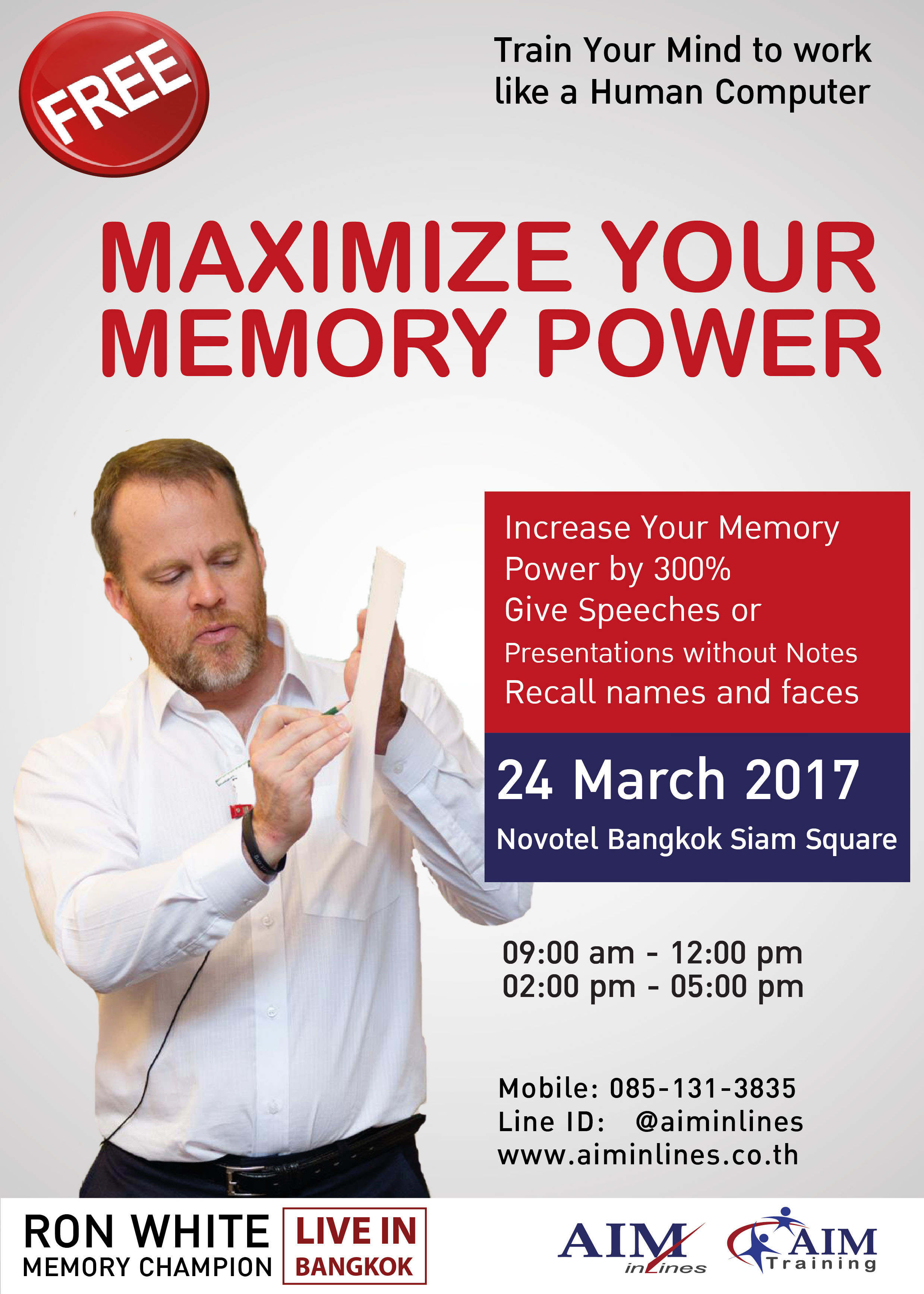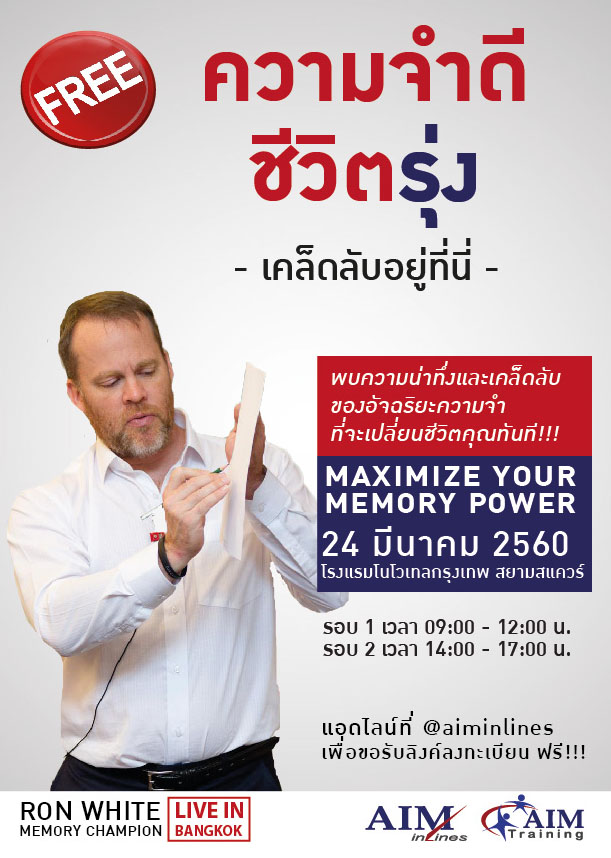 Organizer: AIM inlines Co., Ltd
Organizer of Maximize Your Memory Power (FREE KEYNOTE SEMINAR)
AIM Inlines, is a multinational seminar organizer with offices & partners in Bangkok, Kula Lumpur, Singapore, Beijing, and Seoul. We help corporations, associations and agencies improve their operational efficiency, staff performance and overall productivity without increasing their budget. We do this by bringing some of the world's top trainers and expert's right to your doorstep, providing you with their invaluable knowledge and insight.
AIM Inlines, was established in 2001 and has served the needs of tens of thousands of customers throughout the world. AIM Inlines has established relationships with many of the world's most notable and accomplished speakers and trainers and we are prepared to bring these people to you.
AIM some of Top Seminars,
Blue Ocean Strategy by W. Chan Kim
Toyota Way and Toyota Talent by David P. Meier
The Wal-Mart Way by Michael Burgdhal,
Coach For Leadership by Dr. Marshal Goldsmith
Success Built to Last by Mark Thompson
Fish by Dr. Steve Lundin
The Five Literacies of Global Leadership by Dr. Richard Hames
Maximize Your Memory Power by Ron White (USA Memory Champion).
The DNA of Success by Jack M. Zufelt

We stake our reputation on bringing you the most cutting edge and innovative thinkers of the time.

AIM Inlines Co., Ltd. (Head Office)

328 Ladprao Soi 109, Ladprao Road,

Klongjun, Bangkapi, Bangkok 10240 Thailand

Tel: (662) 513-0123 (Auto lines)
Email: [email protected]
Website: www.aiminlines.co.th

Novotel Bangkok on Siam Square

392/44 Siam Square soi 6, Bangkok, Thailand 10330

View venue profile - Go to venue Website