Free!!! Seminar on "30 – DAY" Mind Diet".
'The Secret' behind The Secret, shows you exactly how to take control of your vibration So you can attract the people, places and things you desire "on purpose"
Saturday, May 28, 2016 @ Holiday Inn Hotel, Sukhumvit Soi 22.
First Round Start: 09:00 am - 12:00. pm
Second Round Start: 14:00 pm to 17:00 pm
The workshop will show each attendee how to balance their thoughts with their feelings in order to reduce any internal conflict that may prevent them from progressing in life. The 6 vital steps are highlighted below:
ACKNOWLEDGE WHERE YOU ARE?

RAISE YOUR AWARENESS.

SHIFT YOUR CONSCIOUSNESS.

TAKE CONTROL OF YOUR INNER WORLD.

CHANGE YOUR MIND SET.

APPLY PERSISTENCE AND PATIENCE.
For more Information Call 085-1313-835 (Eng) / 086-810-4434 (Thai)
Line ID: @aiminlines
This Seminar will be in English Language,
Simultaneous Translation also available, English to Thai Language.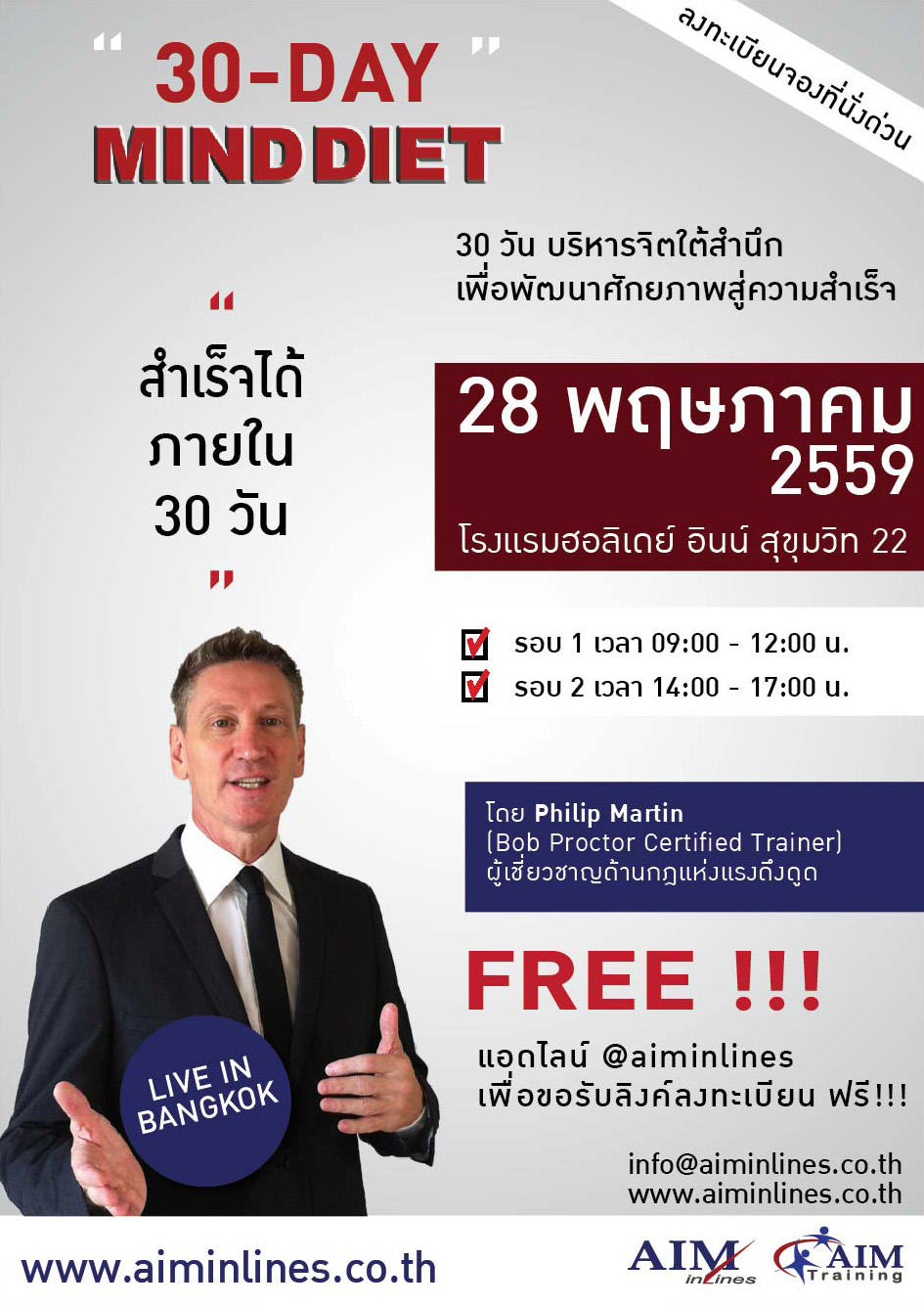 AIM inlines Co., Ltd.
Organizer of "30 – DAY" Mind Diet (FREE SEMINAR)
AIM Inlines, is a multinational seminar organizer with offices & partners in Bangkok, Kula Lumpur, Singapore, Beijing, and Seoul. We help corporations, associations and agencies improve their operational efficiency, staff performance and overall productivity without increasing their budget. We do this by bringing some of the world's top trainers and expert's right to your doorstep, providing you with their invaluable knowledge and insight.
AIM Inlines, was established in 2001 and has served the needs of tens of thousands of customers throughout the world. AIM Inlines has established relationships with many of the world's most notable and accomplished speakers and trainers and we are prepared to bring these people to you.
AIM some of Top Seminars,
Blue Ocean Strategy by W. Chan Kim
Toyota Way and Toyota Talent by David P. Meier
The Wal-Mart Way by Michael Burgdhal,
Coach For Leadership by Dr. Marshal Goldsmith
Success Built to Last by Mark Thompson
Fish by Dr. Steve Lundin
The Five Literacies of Global Leadership by Dr. Richard Hames
Maximize Your Memory Power by Ron White (USA Memory Champion).
The DNA of Success by Jack M. Zufelt

We stake our reputation on bringing you the most cutting edge and innovative thinkers of the time.

AIM Inlines Co., Ltd.
(Head Office)
19/2 Pahonyothin Soi 23,
Pahonyothin Road, Bangkok
10900 Thailand

Tel: (662) 513-0123 (Auto lines)
Fax: (662)513-0124
Email: [email protected]
Website: www.aiminlines.co.th

Holiday Inn Bangkok Sukhumvit

1 Sukhumvit 22, Klongton, Klongtoey, Bangkok, Thailand 10110

View venue profile - Go to venue Website